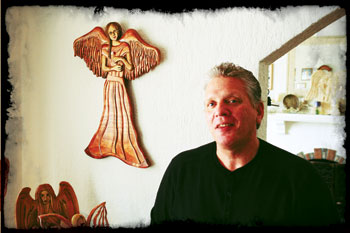 In the fall of 2005, Bill Jeralds had an experience that would change his life forever.
He was rushed to an emergency room at Community Memorial Hospital in Ventura , California where he was diagnosed with pneumonia and a collapsed lung, and admitted was to the Intensive Care Unit for treatment. Within days of entering the hospital his condition worsened and soon progressed to double pneumonia, two collapsed lungs, bacterial sepsis of the blood and A.R.D.S, Acute Respiratory Distress Syndrome. With his body failing quickly, Bill was placed on a Ventilator in a drug induced coma while his Doctors fought to combat his illnesses; a coma that lasted three and a half weeks.

During that time his doctors contacted Shannon , his wife, advising her that Bill was losing his battle and there was little or no hope of saving him. They advised her that he was worsening and suggested he would not live much longer. They suggested that his treatment be stopped and asked for her consent; Shannon stated boldly;
"You do not know him like I do. If you do not have faith in him, I will have to have enough for all of you. He will get up and walk out of this hospital. I know that and want you to know that. Do not stop treating him."

Through the grace of God, Bill's condition began to improve and within days of that meeting, his lungs were clearing, his body was fighting the bacteria in his blood and he was beginning to breathe on his own; a miracle by any definition. Though his body was strengthening and beating the illnesses that nearly took his life, he had lost most of his life memories and his short-term memory, symptoms that continue to this day. In his words, "Recovering from the effects of the illness has been difficult, both mentally and physically, but I have been blessed and I am thankful for each day" .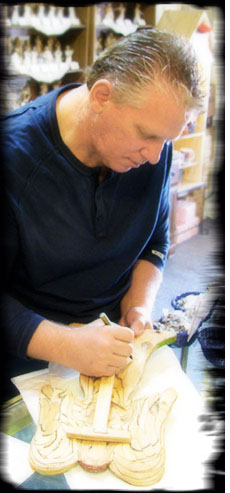 In the late summer of 2007, almost two years after his illness, Bill began creating his Angels. With no prior experience or inclination towards woodworking, and no recognized talent for drawing, Bill was suddenly able to create visually stunning Angels from rudimentary images drawn on plywood planks. In his words,
"They just fall out of my hands. I cannot explain it any better than that. It is a gift that God has given me that I want to share with everyone."

He is thoughtful and insightful about his newfound abilities and the notion that he is talented. He dismisses that perception very quickly stating; "There is a difference between talent and a gift; this is a gift from God. I want my Angels to give hope to those in need and to remind others that nothing is impossible. I am blessed to be able to create these Angels and to see the joy they bring to others".

Bill has been featured in the Ventura County Star Newspaper and on CBS News. His work is displayed and sold worldwide. Bill is a resident of Ventura , California and can be contacted by email at bill.jeralds@gmail.com