Add me on Facebook to see my newest creations along with their angelic messages
Click Here to view Bill and Shannon on "Bridging Heaven and Earth"
Click Here to view the CBS News Report "Near-Death Survivor Spreads Hope With His 'Angels'"
Click Here to view an interview with Richard Greninger
Click Here to listen to "Thank You For The Angels", a beautiful song written for Bill and Shannon by Alan O'Day.
Click Here to view the letter from the Vatican in response to the Angel "Gabriel" which was presented by Arch Bishop Donald Jolly Gabriel to Pope Benedict XVI on February 27th 2009.
Click Here to view article "My Healing Heavenly Angel" in Guideposts Magazine
Click Here to view article in "The Sicilicn Wing"
Click Here for Ventura County Reporter article"Divine Inspiration"
The Miracle of the 26 Petals
When Sonia Rivera requested one of Bill Jeralds' wooden angels to send to the families of the recent tragic shootings in Newtown, Connecticut, she didn't know or even expect that something strange and very powerful would take place. With Bill Jeralds however, miracles are an everyday occurrence.
Sonia contacted Bill to donate one of his angels to Oxnard Union High School District so they could present it as part of a gift to the victims of the Sandy Hook Elementary School massacre. At first Bill chose an angel crying beneath a cross which he had made just two months before. When Sonia came to pick up the angel from "Things from Heaven", an angel store in Ventura, Ca, she agreed with the owners of the store that the angel by the cross seemed too sad and ultimately, too religious for a public school. At the last minute, Sonia decided to select an angel that was sweetly touching and admiring a sunflower. This piece had hung on the wall at the downtown Ventura gift store for over a year. Bill often said he felt this was one of his most beautiful angels and wondered why it had not been sold.
After picking up the angel, Sonia posted a photo of it on her Facebook Page. When Bill saw her post he was moved and he studied it carefully. There was something about the piece that intrigued him. At first he did not know what it was. Then it came to him. The sunflower the angel was touching had twenty-six petals on it. Bill thought this might be significant, so he told his wife Shannon about the number of petals. Shannon said that she was dumbstruck when she learned of the twenty-six petals. At first Bill did not understand his wife's reaction. She then explained to him that the number twenty-six was very important in the event he was donating to. This she told him was the number of students and teachers that died in the massacre.
This piece of art had waited over a year to be sold and then was chosen as an afterthought. It was the perfect angel for the people of Newtown, Connecticut. Bill says he does not believe in coincidences. His angel with the twenty-six petal sunflower was the one selected by the angels to be sent. The sunflower, he says, means closeness to God. There are now twenty-six new angels with God in heaven.
Donation to Turning Point Foundation
This Angel of Wellness is being donated to the Turning Point Foundation for their upcoming fund raiser. They are a really energetic organization that is dealing with those who are suffering through mental health issues. I know this Angel will bring many blessings to their wonderful organization. Thank you Tim Pompey for including us in this wonderful work.
Book Project - "The Angel Puzzle"
There is a great deal of interest in compiling a book about the people who have one or more of my Angels in their home or work. The book would be a collection of stories, similar to the "Chicken Soup for the Soul" series, from people who have purchased or have been given one of my Angels and will include stories about the experience of picking up the Angel, how the Angel makes them feel and any impact or life changes that have happened since having an Angel in your home or place of business. I have heard amazing stories from people who have had healings attributed to the Angels, or peace in their broken families or restored relationships. This is a unique book in that you can share anything you like. You do not have to use your real name as I know a number of people are concerned about their personal privacy, and I understand that. However, you certainly can use your real name.<p>
The project is in it's early stages but I am excited about the possibilities. If you would like to share your story with others, I would love to have you included in this work. You certainly do not have to be a writer as this should come from the heart more than the head. You can share any information you would like. Some of the things I would like to include with your story is how long you have had the Angel, how you came to own the Angel, possibly a picture of the Angel and you if you would like to include that in your pages, and either the name or type of Angel you have. e.g. Prayer, Faith etc. I feel this is an important work that will bring hope and restore faith to those in need of that help. I would be honored to have you be a part of project. Please feel free to contact me if you have any questions or other ideas that would make this an even better project. Love and blessings, Bill
UPDATE - 08-24-2015 The book, "The Angel Puzzle" is in it's final edit! I will keep you posted and let you know when it is available.
WAV Project
I am pleased to announce that I have been selected for residency in the WAV Project in Ventura, California. For those of you who are not aware of this incredible project, WAV stands for "Working Artists Ventura". It is a brand new 54 million dollar state-of-the-art "Green" complex where artists will live and work in a community setting. On the ground level there will be shops and galleries, coffee houses and cafes and a live performance theater. The intent of this project is to further the arts in Ventura by providing affordable live/work space to upcoming artists. Click Here to learn more about the WAV project.
I am honored to have been chosen to be a part of the WAV. This is an amazing project in an amazing city that continues to inspire me each day. I am blessed to have this opportunity. Bjj
Joel Osteen receives "Angel of Prayer"
Pastor Joel Osteen, from Lakewood Church in Houston, Texas received a beautiful "Angel of Prayer" directly from Bill last week. In response, Pastor Joel recognized his artistic gifts with his blessings and a note of thanks.
I have been a fan of Pastor Joel Osteen for quite a while and it is an honor to have one of my Angels blessing his home and family. Joel has a way of touching the very heart of the people he speaks to. If you have not had the pleasure of listening to his sermons, check your local TV listings and check him out. You will not be disappointed. Bjj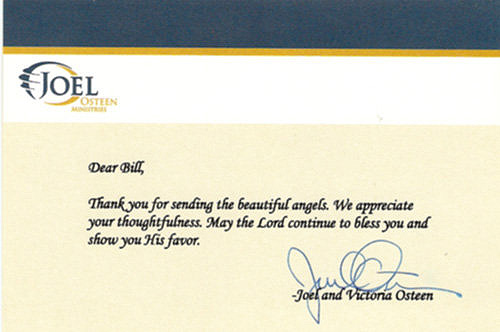 13th Annual "Angel Affair"
On October 17th, Bill will be a featured speaker at the 13th Annual "Angel Affair" for Olive Crest. Bill is donating one of his Angels, "Angel with Children" to help raise money for victims of child abuse. Olive Crest's mission is Preventing child abuse, Treating and Educating at-risk children and Preserving the family..."One Life at a Time."
What an amazing event! The love and caring displayed by everyone involved was incredible. I am thankful to have been a part of that group and look forward to a long and lasting relationship with The Golden Angels and Olive Crest. Bjj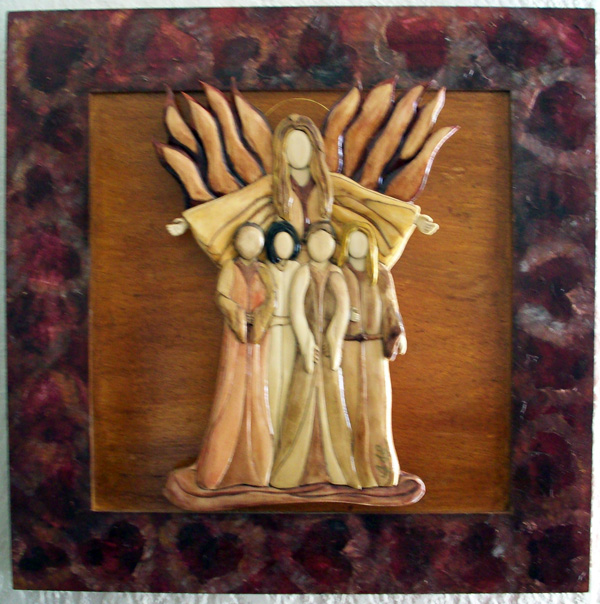 10.5.09 - Radio Interview
On October 5th, Bill will be returning as the featured guest on The Dr. Bunny Show - "Here's the Thing". This is a live broadcast that runs from Noon until 1:00p and should be lots of fun. Dr. Bunny's show is heard each day on KKZZ 1400 AM. Tune in for a great time and call in if you would like to be a part of the show. The call in number is 805-639-0008. Not in the Ventura area? Listen live via Internet at http://www.kkzzam1400.com.
We had a wonderful visit with Dr. Bunny Vreeland. It is always great to spend time with her and share her unique views of the world around us. Blessings to all. Bjj
8.3.09 - An Evening of Angels
Bill will be showing his amazing Angels and sharing his remarkable story on August 3rd, at "A Place Of Peace" in Ventura, Ca. It promises to be a wonderful and very interactive evening. "A Place of Peace" is located at 896 East Main Street. Ventura, California 93001. Join Bill for this event and see his work first hand. You will not be disappointed.
I would like to thank everyone for a lovely evening. It is always wonderful to meet people and share experiences. I look forward to hearing from each of you and to returning to "A Place of Peace" in the future for another evening of Angels. God bless. Bjj
7.23.09 - Sergio Bambaren receives Messenger Angel
Best Selling Author of "The Dolphin - Story of a Dreamer" received a "Messenger Angel" from Bill Jeralds. According to Sergio, "your angel is here, very close to my heart. May your dreams come true, always. Sergio" www.sbambaren.com
It was a pleasure to spend time with Sergio. It was a wonderful day filled with spirit and enlightenment. He is a very gifted soul and I wish him much continued success. - Bjj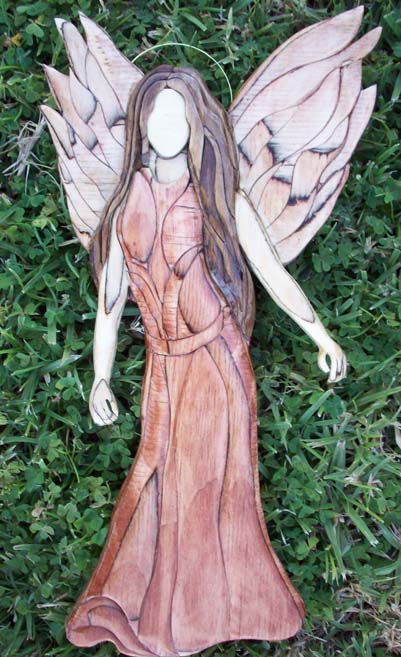 7.10.09 - Halle Berry receives Angel
Angel "Maria" was presented to Meredith O'Sullivan, publicist for Halle at 42 West in Los Angeles. In a recent radio interview Bill was quoted, "It was wonderful to create an angel for Halle. I know it will bless her home, her health and her little one".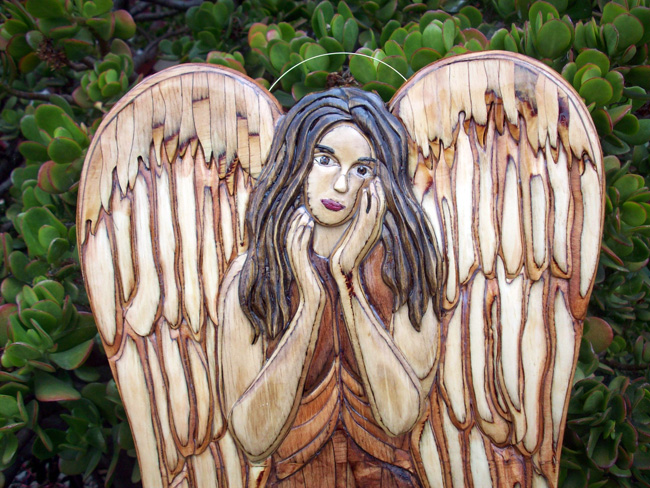 5.3.09 - Ventura City Council Presentation
Below is the angel that I am presenting to the Ventura Mayor and City Council Monday, 5.4.09
as well as a "letter to the editor" of VC Reporter.
Her name is "Angel of Peace" and I hope that she can inspire the City of Ventura as much as this beautiful city continues to inspire me. Bjj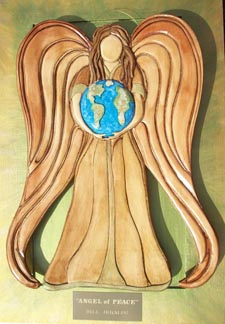 Divine inspiration at City Hall
Thank you for writing your beautiful article about Bill Jeralds (Arts and culture, 3/26). He is an amazing person and his story needs to be told. I know this will be the first of many articles about the miracles in Bill's life.
Mayor Christy Weir has agreed to accept one of Bill's angels at the Ventura City Council meeting on May 4. Bill plans to give the City of Ventura a 24-inch angel holding the world in its hands; he calls it "The Angel of Peace."
Thanks again for everything,
Keith Richardson, Ventura
4.20.09 - Letter from the Vatican
Exciting news! I've received a letter from the Vatican in response to the angel Gabriel which was presented by Arch Bishop Donald Jolly Gabriel to Pope Benedict XVI on February 27th 2009.
I wanted to share this all of you who have supported my angelic efforts. I am forever humbled by your kindness, strength and prayers. Bjj

2.29.09 "Thank You"
Words cannot express my gratitude for the outpouring of support and kindness I've received over the past few weeks. Your stories and heartfelt words have touched my heart and have served as a reminder that Angels are truly always with us, reflected in the warmheartedness of those who share a common purpose, a belief that we can heal our world through art, through faith and with unyielding hope.

Please know that I am reading every letter that I receive and will endeavor to respond to each of you as soon as I'm able. Thank you for your patience and your continued support.

We are working to update the availability of the angels currently displaying in our gallery. If you see an angel that you would like to own, please email me at bill.jeralds@gmail.com and I will work with you to fulfill your request.